SIOMAI KING MECQ READY ONLINE FRANCHISE BUSINESS OPPORTUNITIES
5:19 pm on 14 April 2021, Wednesday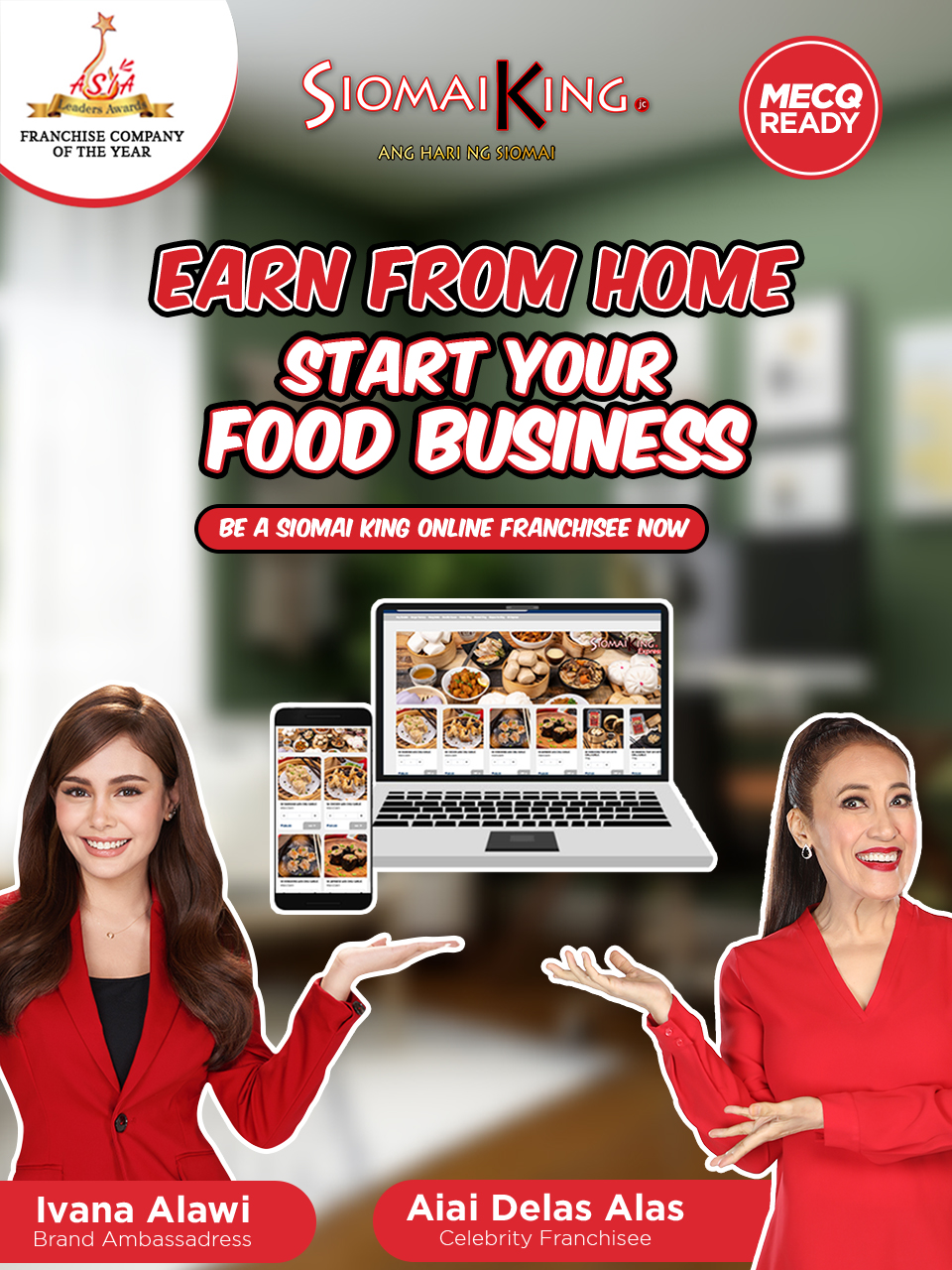 IT HAS BEEN A YEAR SINCE THE COUNTRY SAW WHAT DEVASTATING EFFECTS THE COVID19 PANDEMIC CAN DO TO OUR HEALTH CARE SYSTEM AND HOW IT CRIPPLED THE ECONOMY, CLOSING DOWN MOST INDUSTRIES THAT LEFT MILLIONS JOBLESS.
AS VACCINES CONTINUE TO ARRIVE, HEALTH CARE OFFICIALS IMMEDIATELY STARTED THE ROLL OUT, INOCULATING THE MOST VULNERABLE, WHICH ARE THE ELDERLY AND OUR MEDICAL FRONTLINERS.
DESPITE OF THIS, THE COUNTRY MAY STILL FACE A LONG ROAD TO RECOVERY AS NUMBERS OF NEW AND ACTIVE CASES CONTINUE TO RISE AT AN ALL TIME HIGH IN RECENT WEEKS, PROMPTING THE NATIONAL CAPITAL REGION AND ITS NEARBY PROVINCE BACK INTO THE MODIFIED ENHANCE COMMUNITY QUARANTINE (MECQ) TEMPORARY STATE.
THIS RESULTED IN BUSINESSES TO CUT THEIR WORKFORCE TO MUCH AS 50% ONSITE AND THE REST, ON A WORK FROM HOME SET-UP.
SMALL BUSINESSES WHO DON'T HAVE A WORK FROM HOME PROGRAM FOR THEIR EMPLOYEES OR ARE UNABLE TO OPERATE DURING THE SAID PERIOD HAVE TEMPORARY CLOSED DOWN IN ORDER TO HELP CURVE DOWN THE SPREAD.
SADLY… MOST SMALL BUSINESSES DOESN'T HAVE THE FINANCIAL MEANS TO SURVIVE THE LOSSES INCURRED DURING THE MECQ PERIOD, ADDING ITS EMPLOYEES TO THE GROWING STATISTICS OF UNEMPLOYEMENT.
ON THE SAME YEAR WHEN THE PANDEMIC FIRST STARTED AFFECTING THE ECONOMY, SIOMAI KING UNDERSTOOD AND SAW WHAT OUR KABABAYANS ARE GOING THROUGH DURING THESE TRYING TIMES AND TOOK STEPS NOT ONLY TO SAVE ITS EXISTING FRANCHISEES BUT ALSO PROVIDING A REVOLUTIONARY OPPORTUNITIES FOR THOSE WHO WANT TO SURVIVE THE PANDEMIC.
SIOMAI KING, THE FAMED FOODCART FRANCHISE BRAND, AND ASIA LEADERS AWARD'S FRANCHISE COMPANY OF THE YEAR, MADE WAVES AS THE COUNTRY'S FIRST FRANCHISE COMPANY TO TRANSITION SWIFTLY INTO THE ONLINE FRANCHISE PLATFORM.
ADAPTING AND INVESTING HEAVILY ON ITS TECHNICAL AND LOGISTICAL INFRUSTRUCTURES, THAT ENABLED ITS FRANCHISEES TO THRIVE, CONTINUING FRANCHISE BUSINESS OPERATIONS SAFELY AND CONVINIENTLY ONLINE!
SIOMAI KING BELIEVES THAT THE FUTURE OF EVERY BUSINESS TO SURVIVE AND THRIVE IN ANY GIVEN SITUATION IS THROUGH THE "ONLINE" OR DIGITAL MEANS, PROVIDING ITS ONLINE FRANCHISEE'S A COMPETITIVE DIGITAL FRANCHISE PLATFORM AND THEIR OWN UNIQUE ONLINE SHOPLINKS WHICH ENABLES THEM NO ONLY TO EARN FROM HOME, BUT TO INTERACT AND CONTINUE THEIR BUSINESS TRANSACTIONS WITH THEIR CUSTOMERS SAFELY, EVEN BY JUST USING A CELLPHONE AND INTERNET.
THIS UNIQUE IDEA OF TRANSITIONING TO THE ONLINE PLATFORM WAS A BREAKTHROUGH IN THE FRANCHISING SCENE, AS SIOMAI KING ONLINE FRANCHISEES NOW ENJOY A WIDER MARKET REACH DIGITALLY, WITH THE COMPANY PROVIDING THE WAREHOUSING, LOGISTICS AND INVENTORY, HELPING ITS FRANCHISEES COPE BETTER DURING THE PANDEMIC.
SIOMAI KING CONTINUES TO INNOVATE NOT ONLY IN ITS DIGITAL PLATFORM BUT CONTINUES TO ADD ON MORE MOUTH WATERING FOOD PRODUCTS INTO ITS ALREADY APPETIZING FOOD FRANCHISE MENU LINE UP IN EVERY SHOPLINK IN THE AIM OF HELPING ITS ONLINE FRANCHISEES EARN BETTER DURING THE COURSE OF THE PANDEMIC.
---