Boy Bondat new Wagyu pares a delicious and healthy gastronomic experience
3:21 pm on 17 May 2021, Monday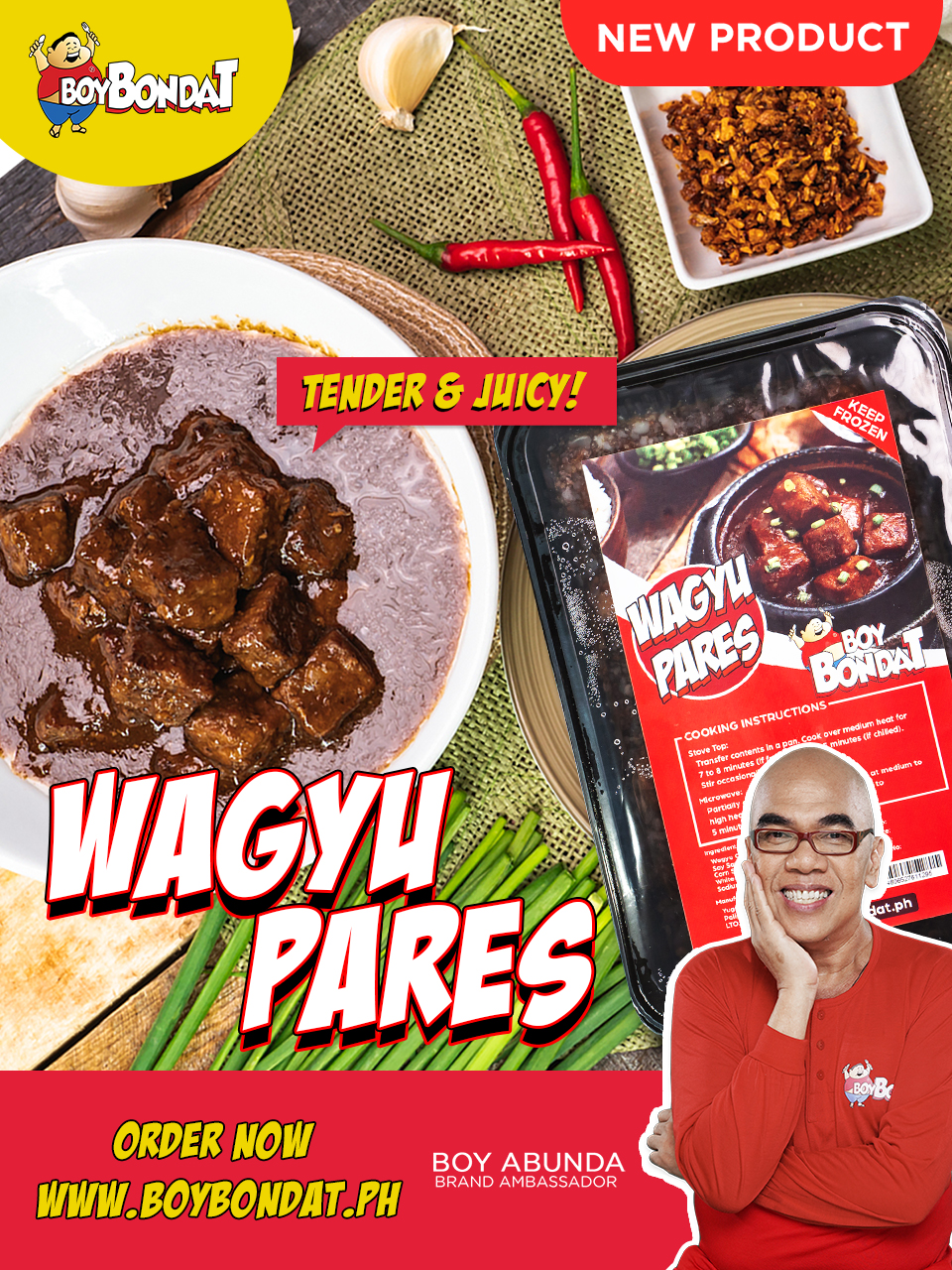 When we think of beef and how it is cooked, we often think of it in several different ways that it is prepared in front of our table which makes our mouth water.
Whether it be brisket, casserole, steaks, stew, stroganoff, ground, corned, meat balled, or ribs… beef is packed with that unique meaty taste that explodes instantly in your mouth.
Now, when it comes to good old Filipino comfort food with regards to cooking beef, nothing beats the local award-winning roadside, an everyday dish called "Beef Pares."
Beef Pares is a famous, well-loved Filipino braised beef stew, commonly served with garlic fried rice and is popular among the masses.
From different statuses and backgrounds, when it comes to a good and very satisfying meal, Filipinos would always choose Beef Pares as their number 1 pick.
Now Boy Bondat, the country's premier authority in taste when it comes to Filipino recipe that is already famous for its Special and Spicy Sissig, Kare- kare and beef pares, has raised the bar yet again in bringing that exquisite gastronomic experience right to your dining room.
Introducing their new culinary masterpiece, transforming an all-time favorite into a world-class flavorsome dining experience in every Filipino plate, The Boy Bondat Wagyu Pares!
Experience the unique taste and tenderness of authentic Wagyu beef, in Boy Bondat's latest Beef Pares offering, for that unrivaled family at-home dining experience.
Boy Bondat said that this latest offering will not only give you a gastronomic delight that you can cook and prepare at the comforts of your home, but this type of beef itself, Wagyu, is healthy for you too.
Health experts say that the monounsaturated to saturated fat ratio is higher in Wagyu than in other beef, 40% of the saturated fat in Wagyu is stearic acid which is known not to increase atherosclerosis risk, and, if anything, actually reduces LDL cholesterol.
Wagyu also contain the highest amount of CLA or conjugated linoleic acid, about 30% higher than other beef breeds. Health experts also expressed that Foods that are naturally high in CLA are more beneficial to our health.
With all these things being said, one thing remains for sure, Boy Bondat will give and will continue to give every Filipino that unique memorable flavorful dining experience that they can easily cook and prepare at the comfort of every Filipino home.
Boy Bondat Wagyu Pares comes in easy-to-cook packs of approximately 400 grams per tray. You can microwave it or heat it in a pan over a stove. Best served together with Boy Bondat's Wagyu Pares signature chili sauce.
Just open, heat, eat and enjoy!
Boy Bondat is the proud Filipino dish line of siomai king. You can enjoy this mouth-watering dish by ordering online through www.boybondat.ph.
---